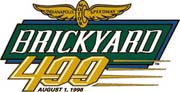 Brickyard 400
Sunday, August 5th, 2001
Tickets are Available!
They may not have tickets, BUT WE DO!!!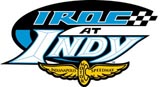 They say that Daytona is still the most important race, but the look in the drivers' eyes says that this is a VERY close second!
We have tickets and we have complete packages. CONTACT US NOW!
IROC tickets also available!


Track layout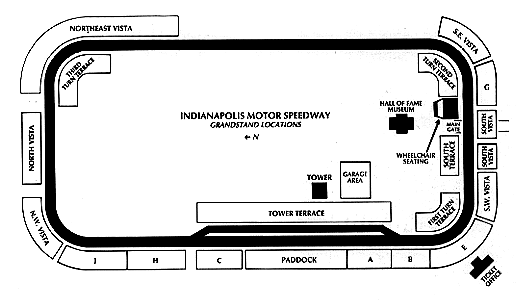 | | | | |
| --- | --- | --- | --- |
| GRANDSTAND: | Lower | Middle | Upper |
| | Tier | Tier | Tier |
| (A) | $200 | $225 | $250 |
| (B) | $200 | $225 | $250 |
| (C) | $150 | $175 | $200 |
| (E) | $200 | $250 | $300 |
| (G) | $150 | $175 | |
| (H) | $150 | $175 | $200 |
| (J) | $150 | $175 | $200 |
| - | - | - | - |
| PENTHOUSES: | Lower | Middle | Upper |
| | Tier | Tier | Tier |
| (A) | $275 | $300 | $325 |
| (B) | $350 | $400 | |
| (E) | $500 | $600 | |
| - | - | - | - |
| PADDOCK: | Lower | Middle | Upper |
| | Tier | Tier | Tier |
| | $300 | $350 | $375 |
| - | - | - | - |
| VISTAS: | Lower | Middle | Upper |
| | Tier | Tier | Tier |
| Northeast | $150 | $175 | $200 |
| North | $150 | $175 | $200 |
| Northwest | $200 | $225 | $250 |
| Southeast | $175 | $200 | $225 |
| South | $150 | $175 | $200 |
| Southwest | $175 | $200 | $250 |
| Vista Deck | $300 | $400 | |
| - | - | - | - |
| TERRACES: | Lower | Middle | Upper |
| | Tier | Tier | Tier |
| Tower | $150 | $175 | $200 |