Check out my children at Halloween! (You can see Corey is carrying on in his grandfather's footsteps in dressing as a woman!)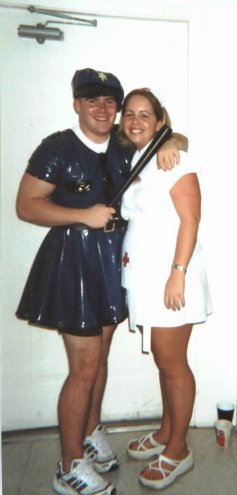 Kids x-mas list: only buy 1 thing per kid! Also, sears flyer had a small car vac that anyone would like, and radio shack had digital tire guages for under $10.
Corey -- we're getting him a CD burner for his computer, so he's probably like blank recording CDs.
-- gas cards (remember, we don't have Mobil where we live--check with me first)
-- gift certificates for music CDs
-- he loves James Patterson and picked up his new book at Sam's Club when we were shopping, but I made him put it down, saying it would make a great
x-mas gift from someone. The title has Red Rose or something like that in it.
-- videos -- either "Gladiator" or "The Patriot" or -- an old one -- "Hoosiers"
-- shirts (pullovers) -- size Medium
---------------------------------
Erin -- she already has a CD burner in her computer, but is always buying blank recording CDs.
-- plain white shirts from gap or old navy (t-shirt or v-neck types)
-- turtlenecks from gap (she likes ribbed ones)
-- Victoria's Secret gift certificates (her underwear of choice)
-- gas card (see comment after Corey's)
-- phone card (she and her friends really burn up the lines)
-- music gift certificates
-- she asked us for these neat lounging pants and tank tops they have at old navy. Similar thing in the last JCP sale flyer. They live in those things in the dorm.
-----------------------------------
Ed and I -- don't need or want anything -- be creative and CHEAP! I'd rather have a nice dinner with you guys, teach us how to play cards or something than have you buy us something. We really miss you!
Here's how my last few days at work have been going: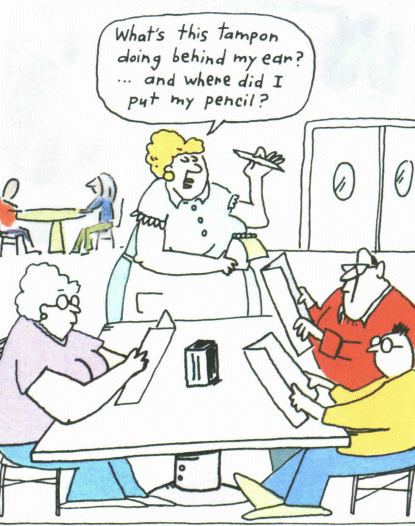 sooooo, I am joining Ed at a conference in San Diego. He flies out at 8:55 tomorrow morning on America West flights 461 and 2182 and returns Monday at 4:00 pm on flights 2614 and 465. I was able to get a $200 Priceline.com ticket, but my flights are different: TWA flights 53 and 335 leave Indy at 4:15 and then come home Monday, TWA flights 394 and 74. I hope neither of us goes down in flames!
We'll really only have Saturday night and all day Sunday to do something, but we went there once before and wished we had spent more time on the ocean. We'll probably go visit the Coronado Hotel and Beach on Coronado Island. We did the Zoo and Old Town and whatever the famous National Seashore lighthouse is out there. Even spent some time in LaJolla.
Sorry it took me so long to get this together. I either had your address, but no pictures or the other way around between work and home. So I made this at work and mailed it home where I have your address.
We took Erin out to Red Lobster tonight for her birthday. She's not getting any gifts as she and I have been "shopping" a few times too often lately. Ed flips out whenever he does the bills, but he still hasn't taken my credit card away!
Well, gotta go! Love to all.